We strive to improve customer satisfaction
Under our philosophy that" quality first is the greatest service we can offer to our clients and is also how we meet their expectations," we strive to improve customer satisfaction with our products that comply with ISO9001 standards.
"Quality Policy"
1. We set quality objectives and communicate it to all employees to embody our quality policy.
2. We develop talents, promote communication between employees to achieve corporate objective and value teamwork.
3. We continuously improve the quality management system and encourage employees to develop abilities and skills to meet expectations of our clients.
4. This quality policy shall be open to and available for the general public.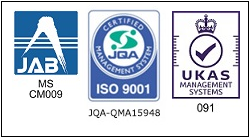 ※ISO9001 Management system certification date: June 27, 2003
Harves Quality Policy revised: October 1, 2006 (PDF)
Sites in scope of the policy: Headquarters, Ina Factory, F&P Factory, Takizawa Factory, Oshio Factory, R&D Center